GILLIAN REINHARD '20
STAFF WRITER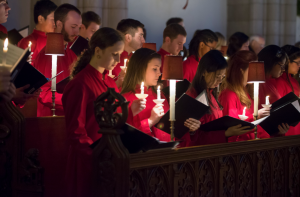 The Festival of Nine Lessons and Carols held its 58th annual service at the Trinity College Chapel on Dec. 4. The program, performed twice (one service at 4:00 p.m. and a second at 7:00 p.m.), featured a wide array of talents and musical styles. The music was primarily provided by the Trinity College Choir, the Chapel Singers and the African Choir, while the readings were provided by various members of the Trinity community, including President Joanne Berger-Sweeney.
The Lessons and Carols tradition first began in Truro, England in 1880 to celebrate the Christmas holiday with a combination of religious music and readings from the Christian Bible. After the events of World War I, the service became extremely popular following a performance of Lessons and Carols at King's College, Cambridge in 1918. In 1958, Trinity held its first Lessons and Carols service and the tradition has continued since then. This year's event marked the college's 58th celebration of Lessons and Carols, which performs annually to a chapel full of students, parents, faculty and other members of the Trinity community.
This year brought an especially packed night, with 18 readers, five clergy members and well over 100 musicians including three Trinity choirs (with participation from both current students and alumni) as well as players of the carillon, organ, timpani, harp, cello and violin. The program featured nine lessons of scripture from the Bible and 15 hymns and carols.
The Lessons and Carols service showcased solos from alumni Liesl Odenweller '88, Patrick Greene '07, Becket Greten-Harrison '07 and Devin Romanul '07. In particular, the night featured an original composition by Greene, which was performed by the Trinity choirs as well as alumni soloists.
Also noteworthy was the Trinity African Choir's impressive arrangement of a carol with words and music by Malibongwe Thwala '17. The night was significant for choir director John Rose, Distinguished Chair of Chapel Music, who commemorated 40 years of service to Trinity's music programs.
"It was great to be involved in my first Lessons and Carols and it was so special to sing alongside alumni. This tradition has so much history at Trinity and it is very meaningful to carry on the legacy of Lessons and Carols," said Eliza Croarkin '20. The service is truly an enormous undertaking with support from dozens of students, alumni and faculty. The program's beautifully performed music was written by composers such as Felix Mendelssohn, Malcolm Williamson and Paul Lindsley Thomas '50.
The chapel's carillon and organ were also highlighted in the service. They were played by Ellen Dickinson and Kristina Miele '19 (carillon) and Christopher Houlihan '09 and Benjamin Gessner '18 (organ).
The event was a traditional Christian church service that hearkened back to Trinity's history as an Episcopalian school. The service was enjoyed by all members of the community who attended, regardless of religious affiliation. This event was a way for the community to celebrate the coming of Christmas and the holiday season, as well as the end of the first semester.