TRIP SLAYMAKER '18
A&E EDITOR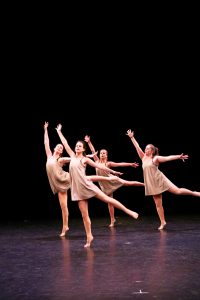 Trinity's annual Spring Dance Concert was held last Friday and Saturday, March 31 and April 1. This year's performance consisted of six dances, each choreographed by students. The first dance segment, entitled "Virago" was performed by Hunter Lindquist '16, and featured a central stage prop that allowed the dancer to seamlessly blend gymnast bar-swinging and a balanced and evocative solo dance. The next piece, choreographed by Colby White '18 was more traditional in style, and showcased the impressive skills of three dancers, Kristina Miele '19, Maggie Mori '20, and Claire Quigley '18.
The three dancers were balanced and technically precise in their movements, evoking emotional distance with a sensitive performance. Christina Prophete '17 choreographed her own piece, "Destiny Calls," which was a standout success among the impressive roster of performances. Prophete used both an innovative physical dance movement as well as carefully curated voiceover segments to give context to her piece, giving life to the emotion associated with awkward miscommunication and societal strain. Prophete's dance also featured the powerful voice of Malcolm X to act as a conceptual backbone.
Olivia Curreri '19 choreographed "Cherish," a four person dance featuring dancers Elise Lasky '17, Haley Michno '18 Isabella Sturdevant '20, and the choreographer herself. Set to the soft sounds of a Ryan O'Neal song, the dance made special use of symmetry to convey the organic energy of the piece. Jordan Cram '17 and Cathryn Haight '17 each choreographed "The Fallen," a reserved and somewhat melancholy dance to "Say Something" by Caitlin Delaney. The dance drew on emotions of loss and mourning available in the song itself. The choreographers explored these emotions in order to create the dance, the finale of which memorably features one dancer pretending to be dead on stage.
The final performance of the night, aptly named "Antithesis" seems to defy the pattern set by the earlier performances, many of which were inspired primarily by more traditionally balletic dance and emotionally cerebral moods. "Antithesis" instead closed out the show with a Brandon Coulotte choreographed number featuring the music of Future, Kanye West, and Baby Huey. Camryn Clarke '17, Krishna Davis '20, Anastisija Mensikova '18, Kristina Miele '19 and Claire Quigley '18. Special recognition should also go to Vivian Lamb and the students who contributed to the visually impressive costumes worn by the dancers. Even though the dances through the evening were not intended to blend together, the differing styles and tones of the performances were all absorbing and transcendent in their own ways. This year's Spring Dance Concert was conceptually daring, and the performances of the dancers were well showcased by outstanding work in choreography.