BEN GAMBUZZA '20
MANAGING EDITOR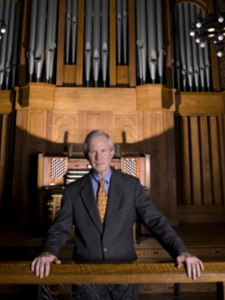 On Thurs. September 7th, across the finely trimmed grass of the quad, there was music in the air. The Chapel looked especially tall from the outside, and was filled with visitors. Enter, and you would have found Trinity students, alumni, Hartford residents, artists, and educators gathered together to celebrate one man's musical mind. It was 5:00 in the evening when the event finally began. After a standing ovation upon his entrance to the organ, a tall and slender man, though moved by the outpouring, made a statement of thanks to the crowd. He then made a description of his program that night, consisting of Bach, Vierne, and others. This was the final organ concert of John Rose.
After 40 years of dedicated service to Trinity College and his beloved students, John Rose will step down from his post as College Organist and director of chapel music this December. His longtime pupil and world renowned concert organist Christopher Houlihan '09 will succeed him in both positions.
John comes from a distinguished line of organists. After graduating from Rutgers University, where he was also an instructor of organ, he went on to continue his studies with the legendary virtuoso, Virgil Fox. Famous for his Bach-Heavy concerts, Fox was in turn a student of the great organist and composer Louis Vierne (the man mentioned above). To take this stunning ancestry one step further, the great Cesar Franck was Vierne's mentor. Needless to say,
John Rose learned from the best. He has gone on to master a technique of clarity and colorful richness in his playing. He has performed over 1,000 recitals in venues such as Orchestra Hall in Chicago, Westminster Abbey in London, and Notre-Dame Cathedral in Paris. He has cemented himself as a titan of the organ world. However, merely stating Rose's lineage and personal success, though necessary and highly respectable, do not capture his whole essence.
John Rose is special for what he chose to actively do with his success. He is not selfish, nor is he isolated. To get a sense of how Rose passed his gifts and love of music on to his students, The Tripod sat down with his friend and colleague, esteemed pianist Dr. Linda Laurent.
When asked to describe John Rose in one word, she uttered, without hesitation, "gracious." She went on to say, "he has a tremendous ability to understand each individual and nurture them in a way that will let them be individuals."
Immediately, one can see the John Rose difference. Throughout his career, he has not only kept up a high level of personal artistry, but he has unceasingly been attentive and serviceable to students. He genuinely cares about the next generation of musicians, not just himself. The Tripod spoke to Chris Houlihan '09: "John is an exceptionally intuitive human, both musically and interpersonally. He encourages students to think critically…about musical problems, to arrive at a well-thought and yet individual solution." Caring about his students in this way, Rose has consistently impressed upon them at Trinity.
He has taken his Chapel Singers, Trinity's oldest student organization, to perform in Buenos Aires, England, Montreal, and Venice Italy. To this day, the Chapel Singers are one of Trinity's most beloved groups, who consistently perform at a high level, all thanks to Rose. Many of these singers, indeed some from his first class in 1977, were present at last weekend's recital. Such dedication and respect is rarely seen anywhere else.
Throughout Rose's 40 years at Trinity, he has been a humble, respected, and gracious teacher, all while remaining one of America's premier organ virtuosi. We will miss him, but he will not be far. For whomever has heard him play has taken an invaluable piece of John Rose with them. Hold this treasure and do not forget. John, we thank you and we know we are in good hands. Christopher, we welcome you with open arms.