CAM CHOTTINER '20
STAFF WRITER
This weekend, the Trinity College Bantams men's golf team kicked off the spring season at the NYU invitational. After the best fall season in program history, the Bantams looked to kick the spring off with a bang, even as the weather on campus has suggested otherwise. Nonetheless, the Bantams made the trek to Bloomfield, New Jersey on Masters Weekend, with the goal of defending last year's hard-fought NYU Invitational victory. In windy and cold conditions on Saturday, the team fired a score of 307 and sat in 3rd place.
On day one, the men were led by Will Rosenfield '19 with a score of 74. He was followed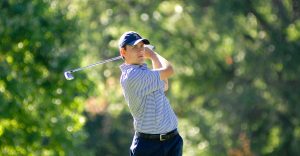 by captains Nate Choukas '18 and Kole Kelly '18 at 77, Taylor Kay-Green '19 at 79. Nick Branchina '19 rounded out the squad with an opening 80, while Jack Junge '19 fired a 76 as an individual. After the first day, the Bantams trailed NYU by 9 strokes and RPI by 8 strokes.
Unfortunately, day 2 was much of the same for the men with Rosenfield leading the way with a 77. He was followed by Choukas and Kelly, matching scores again with a pair of 78s, while Branchina improved to 79. Kay-Green rounded out the scores on Sunday with an 83. Junge continued his strong play, firing off an impressive 74 leading to a 5th place finish as an individual.
The Bantams finished in 3rd, behind NYU and RPI. NESCAC rival Williams finished in 6th, 28 shots behind the Bantams. Next week, the team looks to take home a win at UMass-Dartmouth's invitational at Allendale Country Club. The Bantams are looking to round into form very soon as there are only three weeks until the NESCAC Championship in Newington, CT with an automatic bid to the NCAA DIII National Championship on the line. Before then, the Bantams head to UMass-Dartmouth on 4/13 for the UMass-Dartmouth Invitational and Williams College on 4/21 for the Williams Spring Invitational.