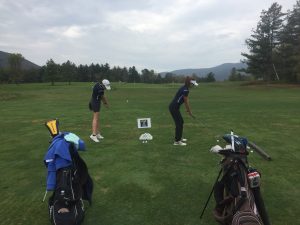 GILLIAN REINHARD '20
EDITOR-IN-CHIEF
Varsity women's golf will become an official sport available to Trinity athletes during the 2018- 2019 school year. The recognition of the team as an official participant in the New England Small College Athletic Conference (NESCAC) is monumental and marks Trinity's fifteenth sport offered to women and thirtieth varsity sport overall. As the Tripod has previously reported, key members of the team have taken women's golf from being an athletic club to an official varsity support. Led by founding members Emily Schroeder '20, Sarah Vimini '19, Gabby Christensen '21, and Julia Francis '21, the initial participants (Schroeder and Christensen) competed in the Bill Detrick Invitational, hosted by the men's golf team. Vimini, Schroeder, and Francis then competed in last year's NESCAC Women's Golf Championship at Williams College to close out the fall season.
"The athletic department, specifically (interim Athletic Director) Kristen Noone, has been really helpful," explained Schroeder, who told the Tripod that she and Vimini had initially approached previous Athletic Director Mike Renwick with the intention of forming the team. After the Athletic Department was able to manage finances and approve the project with the Board of Trustees, women's golf was given the green light to move forward.
Like many Trinity sports, women's golf will mostly concentrate on playing other NESCAC teams. However, the team hopes to participate in other competitions as well to increase their playing time and improve their skills. "Women's golf is not as well established at schools (in the NESCAC) like men's golf is. So, all the teams seem to support each other and allow them to play in their hosted tournaments," said Schroeder, who continued to praise the support from other NESCAC teams.
Trinity is the seventh school to join the NESCAC women's golf conference, along with Williams, Amherst, Middlebury, Bowdoin, Hamilton, and Bates. Currently, Tufts, Colby, Wesleyan, and Connecticut College do not have varsity women's teams to compete in NESCAC tournaments. This seventh addition to the league would give the NESCAC "automatic bid" qualifying rights for national tournaments.
Women's golf at Trinity has a bright future, considering three of its core four players are underclassmen. Of the incoming class of 2022, the team was informed that about thirty female students indicated playing on golf teams in high school on their college applications, suggesting that team membership will continue to grow. "Hopefully, we will have more incoming freshman, so we are excited about that," said Schroeder.