CHARLIE McMAHON '18
STAFF WRITER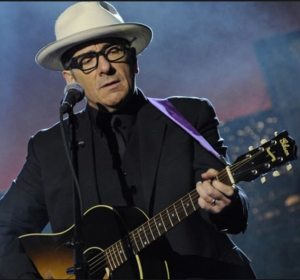 Seeing one of your favorite musicians live is always a surreal experience. Many people attend performances with an image of what a certain artist will be like when they perform live, and when they don't meet that expectation, there can be a sense of overwhelming disappointment. For example, singer-songwriter Van Morrison is one of the most prolific songwriters of the twentieth century. When he performs live, however, inexperienced fans are often said to leave disappointed by his lack of interest and charisma. It seems as though Morrison does not want to be there, like he doesn't care.
This weekend, I had the distinct pleasure of seeing the great Elvis Costello at the Oakdale Theatre in Wallingford. From the very second he started his first set, I could tell it was going to be a once in a lifetime musical experience. Costello is unique because he has arrived at a point in his career where he does not have to play only from his repertoire of hits. Having begun his career in the late 1970s, he has experimented with nearly every musical movement from that point onwards. Starting with My Aim is True (1977), Costello had a string of wildly successful studio albums resulting in some of the best radio hits of the new-wave era. Later in his career he ventured into cabaret-style jazz singing, teaming up with the legendary composer Burt Bacharach to create the Grammy-award winning Painted from Memory (1998). His ability to transcend the contemporary definitions of pop-music is what makes Costello such a genius. This breadth is what made his live show so wildly engaging. Any avid fan would have been thrilled if he had moved song for song, through his greatest hits collection. But in focusing on some of his jazz compositions, Costello sent a clear message to the audience; he cared about what the audience wanted to hear, but also understood the importance of showing his growth as an artist.
Prior to attending the concert, I read Costello's brilliant memoir Unfaithful Music, and Disappearing Ink. Knowing the life story of an artist prior to seeing them live enhances the experience, making the performer appear more human, and more approachable. Personally, Elvis Costello has been a hero of mine for years. He has the unique ability to whittle down every human emotion into a five-minute song. His ability to laugh at life in an ironic, satirical manner makes bad situations seem better. If you're ever sad, there is bound to be an Elvis Costello song out there that sums up your exact feelings. I initially started listening to Costello in my middle school years, finding an old greatest hits collection hiding in my basement. However, after discovering the author Bret Easton Ellis, I reevaluated the depth and meaning of the artist's music. Ellis came of age during Costello's peak, and used his music to draw literary inspiration. Ellis' first novel Less Than Zero, borrows its title from a track off Costello's My Aim is True.
In the 1980s, the country was evolving. The United States was gradually transforming from a nation that championed the countercultures of the '60s and '70s into the home of Ronald Reagan and Wall Street capitalism. Costello summed up these times, and made them more palatable. This ability to tap into the zeitgeist makes him an enduring artist, and one who is still capable of surprising.