AMANDA LAFFERTY '21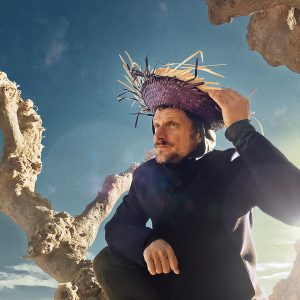 MANAGING EDITOR
A true innovator for minimal house and IDM (intelligent dance music), Hamburg-based DJ Koze is a mysterious and intriguing figure. His social media posts are limited, as are his North American appearances. He's been producing music since the late 1980s, some releases being remixes, others purely original, all of which carry his music's distinct minimal, oscillating, and sometimes stripped-down aesthetic.
His newest EP release Seeing Aliens, the first in five years since his critically acclaimed Amygdala, is a testament to his mixing skills. It's three tracks of pure dance perfection, and if you haven't already, be prepared to join the "Koze Klub."
The title track "Seeing Aliens" starts off the release with an undeniably friendly
groove of atmospheric synth, muted bass notes, and crisp drum machine beats. The track is immediately satisfying and progresses into a multilayered track with drop-off points that focus on individual instrumentation. It's an airy yet emotional song that at its midpoint, grounds the listener into a sustained feeling of bliss, leading up to a soundscape of ambient, powerful, and engaging sampling.
The second track is the "Extended Breakthrough Listen" of the first. What this track offers that the opening doesn't are increased complexities. More samples, more synth, and is ultimately, more lively. This is most likely the one Koze will use during live performances, as the danceability aspect remains consistent and entrancing.  
The B-side track, "Nein Köning Nein," turns out to be the best track on the release. Koze incorporates a vocal sample, one in which he manipulates to be an additional layer of instrumentation. The bass is rich throughout, and the backing beat is entirely inventive, as Koze incorporates a tastefully placed high-hat throughout that is seemingly simple yet captivating and unexpected each time it appears. An additional great aspect is the apparent crescendo that drops off to a drumless section of the track, making the listener want just another two minutes of dance-floor heaven. The last minute of the song is just one ethereal tremolo-sounding sample that creates a beat in itself. It becomes ingrained into your mind, and is hypnotic in nature.
The full length LP Knock Knock is set to be released on May 4 on Koze's own Pampa Records. Expected features include José González, Sophia Kennedy, Mano Le Tough, and Bon Iver. 

Listen to two of the tracks on Soundcloud below.