NATE CHOUKAS '18
SENIOR EDITOR
No. 1 ranked Men's Squash just dominated the NESCAC tournament for the 12th consecutive year, improving their record to 14-0. The Bantams are charging full steam ahead into the thick of the season, with two remaining matches before the CSA National Championships. Trinity will face the Princeton Tigers this Friday the 16th and the Rochester Yellow Jackets on Sunday the 18th, before attempting to defend their 15th National Title won last year.
The Bantams ousted three NESCAC foes –Bowdoin, Middlebury, and Bates – en route to their 12th conf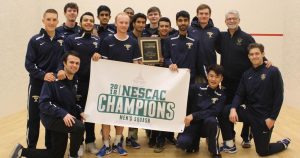 erence championship win. Having never lost a match, Trinity boasts an impressive record of 35-0 all-time in NESCAC tournament play. This year was no exception, as the Bantams scorched all three opponents 9-0.
In the first round against the Bowdoin Polar Bears, all nine Trinity players swept their individual matches 3-0. Not a single Polar Bear was able to win a game off a Trinity player. Playing out of the nine-slot, Mudit Pant '19 allowed only eight points in his entire match. Against Middlebury, seven of the nine Trinity wins came by 3-0 scores. Against Bates, who has lost to Trinity in three of the past four NESCAC Championship Finals, Trinity would again sweep all nine matches 3-0.
For the Bantams, winning the NESCAC Championship has become all too familiar. Harvard, Princeton, and Rochester, ranked No. 2, 7 and 8, respectively, will provide a greater test for the talented Bantam squad as they bid for yet another national title.