CARLY CAO '20 STAFF WRITER
Last week, the field hockey team's road to the Division III NCAA final four was cut short after falling to number one ranked Messiah College at the Falcons' home turf in Mechanicsburg, Pennsylvania.
Just seven minutes into the game, Messiah's Kezia Loht passed the ball to teammate Carissa Gehman who finished the play, firing the ball past Trinity's Lori Berger '18. Leading the first half 1-0, Messiah copped another scoring opportunity a few minutes later but the ball was deflected off defender Madison Guiffre '19, keeping the score 1-0. The block didn't deter Messiah's hustle; nine minutes after the initial goal, Kristin Donohue managed to get around Berger and add to the lead. Almost immediately after, Donohue and Gehman advanced quickly down the field, resulting in a goal by Gehman and a 3-0 lead. Messiah's defense barely gave the Bants breathing room or any shooting opportunities, but Trinity earned a penalty corner 34 minutes into the half. Co-captain Kelcie Finn '18 attempted a shot but was unsuccessful. The ball returned to Trinity's half in the final seconds of the game but Guiffre, Allison Slowe '19, and first years Ellie Tate '21 and Jessie Midlige '21 refused the Falcon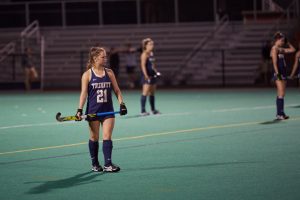 s from adding to their lead.
Adding to their lead, Messiah scored for the fourth time 23 minutes into the second half. Kezia Loht, assisted by Donohue, fired the ball into the back of the net. Shortly after, Donohue, again with the assist, dribbled the ball to Nicole Wilkerson who scored and finalized Messiah's 5-0 lead. Trinity gave one last attempt in ending the shutout, but the Falcons' defense didn't falter.
Trinity kept impressive and admirable efforts throughout the entire game despite the shutout. The Bantams ended with an overall record of 14-7 as the Falcons advance to the final four for the second consecutive year.